HOW MUCH MAINTENANCE DO SOLAR PANELS REQUIRE?

A solar system is one of the larger purchases or agreements homeowners will opt in to throughout their lives. Just like a car, you want to make sure you are protected with great warranties and maintenance programs.
So let's start by looking at the components of a solar system and what could possibly go wrong. Solar is very low maintenance and there aren't many components to it. The 2 main components are the solar panels of course, and the inverter or inverters.
SOLAR PANELS

Solar panels are becoming more popular due to lower cost, government incentives, and efficient technology. Silicon semiconductors within the solar cells absorb sunlight and convert it into DC electricity. The electricity passes through the inverter that will convert that DC electricity to AC electricity, which is usable energy for your home.
Solar panels are low maintenance, there aren't any moving parts. Having them on your roof typically helps keep them out of harm's way. However, ground mounts are a popular choice for those who have the space. Solar panels are rated to withstand golf ball sized hail, and winds upwards of 150 mph.
The solar racking system attaches the solar  panels to your roof. Depending on where you live, the correct racking system will be selected to be able to withstand the elements. For example, some states in the south east that deal with hurricane type weather will most likely use a different racking system than someone who lives on the coast of California and deals with sea salt and corrosion.
CLEANING SOLAR PANELS

Depending on where you live, dust, grime, and bird droppings can build up. The dustier the area the more you will want to inspect the panels for a cleaning. The simplest way to clean your panels is by hosing them off with a garden hose. This is effective for removing dust. You can also use a soft brush with an extension, similar to what window cleaners use to reach tall windows. If you're required to get on your roof and clean your panels, you may want to hire a professional. A fair price to pay for solar cleaning is between $15 – $35 per panel. (Although with Cascade Power, solar panel maintenance cost is $0, as we maintain the panels for you.) Rain is also great for maintaining solar panels. Although rainy days aren't ideal for solar production, that's mother nature giving them a free bath.
The average solar panel degrades about a half of a percent each year. Which means after 20 years your solar system should be running about 90% efficient. Almost all solar panel manufacturers include a 25 year warranty. Your panels will last for the long haul, without regular maintenance or repairs.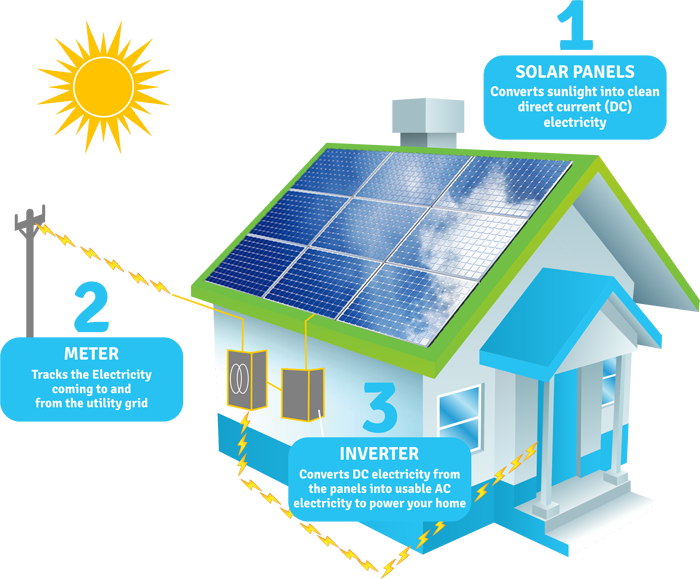 SOLAR INVERTERS

You could call inverters the "workhorse" of the solar system. They invert the power from DC electricity to AC electricity all day long. Therefore, if there is a problem with a solar system more often than not it's trouble with the inverter, rather than a solar panel. The expected lifespan of an average inverter is about 10 years, but inverters have lasted for well over 20 years. Depending on which inverter you install, you will receive a manufacturer warranty of up to 25 years.
There are two types of inverters used with residential solar.  One is called a string inverter and one is called a micro inverter. A string inverter is a box shaped panel that is mounted on the side of the home near the existing electrical panel. There is wiring running through metal conduits that allows power to flow from the panels to the inverter.  You typically only need 1 or 2 inverters to power an entire solar system. At Cascade Power, we use optimizers with our string inverter to maximize power output, which allows solar panels to be tracked and monitored individually.
A micro inverter is a smaller inverter that is mounted underneath the solar panel. Each panel will have its own inverter, and the power will be inverted from DC electricity to AC electricity at the site of the panel. Micro inverters are the newest technology of solar inverters, and are slightly more expensive than string inverters. They are guaranteed by the manufacturer for 25 years, and if an inverter needs to be replaced it will typically just be one or two micro inverters, rather than replacing the whole string inverter. Micro inverters also allow modules to be tracked and monitored individually.
SOLAR POWER GUARANTEED

Solar systems are fairly low maintenance and solar manufacturers back their products, but when you go solar with Cascade Power you get much more than that. You get peace of mind that you've found the best possible solar solution for your home, with a roof warranty, performance guarantee, and all the solar maintenance services, monitoring, and warranties included. If your solar system is down for any reason, it will be fixed immediately and you'll be compensated for the time it's down.
Click here to receive a free solar energy assessment for your home.